The offshore wind industry is primed for accelerated growth over the next decade, driven by national commitments to reducing carbon emissions, renewable energy targets, and the ever-improving cost efficiency of wind as an energy source. Global installed capacity is expected to reach 255 GW by 2030 – a 700% increase from 2020 levels.
Earlier this year, Mainland China overtook the UK as the world's largest offshore wind market and is expected to continue to account for 25-30% of global capacity between now and 2030. Growth in the international market will be driven by traditional powerhouses such as the UK and Germany but also by new markets such as Taiwan, Poland, the US, Japan, and South Korea.
Between now and 2028, an estimated 12,000 turbines are forecast to be installed across international markets with 94% of these being fixed-bottom.
In addition to the significantly greater number of installations, turbine technology is evolving at breakneck speed. Across Europe, the average size of an operational offshore turbine is currently 4.7 MW. The average size of turbines currently under construction are 9.3 MW. The most recent (pre) awards for projects to be built around the 2025/26 period are now in the 14-15-MW range, with 20-MW models widely expected by the end of the decade.
This rapid pace of development has not only been crucial in improving the cost efficiency of offshore wind (fewer turbines per kwh) but also is creating unique challenges for both developers and contractors alike. For the former, the lead-times between submission of planning documents and financial close can often see huge progression in turbine technology requiring plans to potentially be resubmitted to ensure optimal project returns. This was the case for Avangrid/CIP's 800-MW Vineyard Wind 1 development off the US and EnBW's 900-MW He Dreiht project off Germany. Both are expected to be fully sanctioned within the next 12 months.
The challenges posed to the contractor community are arguably more complex, with higher yield turbine models increasing significantly in size and weight. The newest, next generation offshore turbine designs such as the Siemens Gamesa SG 14-222 DD (14 MW) which are due to start installation at RWE's 1,400-MW Sofia development offshore the UK during 2024-25 will stand 50-60 m (164-197 ft) taller than the Vestas V164-9.5-MW units currently being installed at Moray East. While the larger swept area of the turbine will improve project efficiency, the proposed dimensions exceed the max lifting height of the entirety of the active wind turbine Installation jackup fleet.
In fact, it is likely that only one jackup from the fleet of 18 dedicated wind turbine installation vessels (WTIVs) currently serving the international market has the capacity to even install 11-MW turbines. Cadeler's recently upgraded Wind Osprey is due to install up to 140 SG 11-200 DDs at the 1.5-GW Hollandse Kust Zuid 1-4 development in 2022-2023). With >11-MW turbines accounting for an estimated 64% of all fixed-bottom installations over 2022-28 (and >80% for the last two years in that period), there is clearly a potential supply bottleneck on the horizon.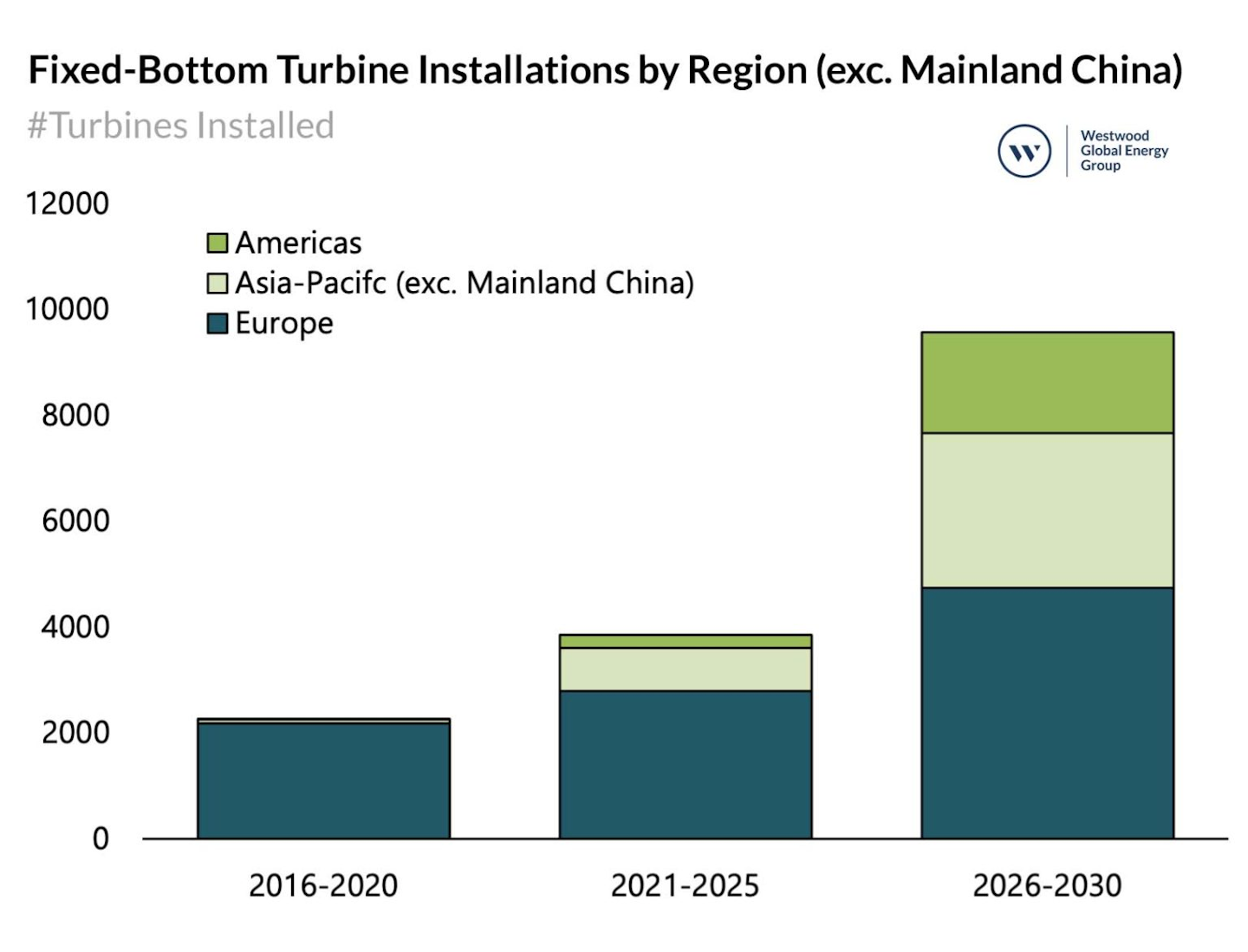 (Source: WindLogix)
This, of course, is far from a ground-breaking conclusion and in fact the past 18 months have seen a significant number of new WTIV orders with max lifting heights in excess of 180 m (591 ft) and aimed at 14-MW+ turbines. We are currently tracking eight firm orders for newbuild WTIVs aimed at the international market as well as three confirmed upgrades of existing jackups. But even with this influx of capital, based on current expectations the market will still require a further nine newbuilds by 2028 (excluding four potential orders currently at various stages of discussion).
Given the current ESG-friendly investment climate and the offshore energy industry's propensity to "overbuild," it is perhaps surprising to some that we have not seen more orders being placed. Back in 2006-08 and the midst of the deepwater oil and gas boom, the drillship segment was staring at a somewhat similar supply crunch and buoyed by >$100/bbl Brent, the industry indulged in a huge build-cycle with more than 76 new rigs delivered between 2009 and 2015. The US shale induced oil price crash of 2014 has been largely blamed for the subsequent demand destruction that has kept global drillship utilization hovering at 50% and day rates at around one-third of 2013/14 highs, but the reality is that the market would not have been able to adequately absorb that quantity of new capacity regardless of oil price.
Certainly, the offshore oil and gas and offshore wind industries are distinct and the scars of the offshore megacycle of 2008-14 are still very much front and center in the collective psyche of the global investment community. However, despite this cautionary tale, the offshore wind sector offers a large and relatively stable, long-term opportunity for a transportation and installation segment that is increasingly made up of established global oil and gas contractors with an urgency to diversify their business away from hydrocarbons. While this opportunity may seem straightforward on the surface, veterans of the offshore energy sector know that such rewards do not come without risk.
Local content
The offshore wind industry is largely driven by policy and regulation with local content and protectionism often central to a country's development strategy. The US currently has only 45 MW of installed offshore wind capacity. However, the introduction of the Biden administration has seen momentum accelerate with first the announcement of a formal 30-GW federal 2030 target in March and then the award of a "Record of Decision" for Avangrid/CIP's 800-MW Vineyard Wind 1 development in May.
The Jones Act (JA) is a protectionist measure that limits the ability of foreign built and/or vessels from engaging in coastwise trade across the US. Jan De Nul's European-built Vole au Vent was able to circumvent the rule during the construction of the Coastal Virginia Offshore Wind (CVOW) demonstration project back in May 2020 by mobilizing from Halifax, Canada. However, this was only practical due to the pilot project consisting of just two turbines. To date, only one Jones Act-compliant WTIV order has been placed – Dominion Energy's Charybdis which is currently being built by Keppel AmFELS and due for delivery in 2023. However, given the fact that this asset will most likely be kept busy with Dominion's 2,600-MW Coastal Virginia development until 2025-26 and that a further 1,800 fixed-bottom turbines are expected to be constructed over the 2021-28 period, more installation vessels will be required.
While some contractors such as Eneti have expressed interest in a JA compliant newbuild, there is a significant price premium associated with building in the US with the Charybdis reported to have cost up to $600 million vs the $250-330 million paid by the likes of Cadeler, Eneti, and OHT for their next generation WTIVs built in Asia. With some current uncertainty over how the Jones Act will be enforced and whether foreign WTIVs can be used as long as they do not come to shore and are supplied by (much cheaper) JA-compliant "feeder vessels," contractors can be excused a little hesitancy before paying a 100% markup for a new asset. Despite this, it is likely that locally built and flagged WTIVs will be prioritized meaning that one additional order may trigger several more by other players to ensure access to a key growth market.
Contractors must also be wary of inter-regional politics. Taiwan is another territory with highly ambitious offshore wind plans with a target of 20.5 GW by 2035. It has a step on the US with 2.7 GW of capacity already sanctioned. However, Taiwan's Ministry of Economic Affairs (MOEA) requires all vessels built in Mainland China to be subjected to a "National Security Joint Review." Jan De Nul's [former] Chinese-built Taillevent was approved by Taiwanese authorities to conduct installation activities at the Changhua Demonstration Project site in 2020, this was due to a lack of suitable alternative vessels (six legs were required due to soil liquefaction concerns). In addition, the vessel had "no PRC ownership nor PRC crew nor any PRC-built telecommunications system."
Technology advances add further confusion
Technology developments in installation methods may be another factor causing contractors to hold back from ordering new vessels. While there are no jackup vessels currently able to install 14-MW+ turbines, potential competition may come from outside of the traditional installation jackup market. Heerema's semisubmersible crane vessels, Thialf and Sleipnir, are two such examples. Heerema has recently been contracted to install turbines at the 257-MW Arcadis Ost 1 development offshore Germany. Once completed this will be the first instance of a floating vessel installing turbines at scale and will employ the use of a proprietary "dummy tower" to ensure stability.
The substantial noise around the floating wind market is another key consideration. Vessel contractors will likely want to understand how the advent of floating wind farms (which do not need jackups for installation) could impact future demand for WTIVs. However, it should be noted that while floating wind technology is maturing with the world's first commercial-scale leases likely to be awarded as part of the 10-GW ScotWind lease round later this year, the next 15 years will continue to be dominated by fixed-bottom developments. Even the most ambitious forecasts expect just 12-14 GW of floating wind installed capacity by 2030 (out of a total of roughly 255 GW).
Conclusion
When deciding on a newbuilding strategy, offshore wind farm contractors face challenging decisions as they consider how build location and specification can impact newbuild cost and the ability to operate across key growth markets. The importance of a well-defined strategy is heightened by the uncertainty around regional supply and demand balances due to competitive dynamics from Chinese vessels, local regulations and requirements, competing installation methods (i.e. semisubmersible crane vessels) and the potential onset of floating wind. As such, vessel contractors need to carefully consider and understand global and regional vessel supply and demand dynamics, alongside the many nuances of the broader offshore wind industry prior to embarking on a costly newbuilding program.